Crisp Food Technologies® Containers
The Only Containers to Keep Food Hot & Crispy!

Crisp Food Technologies® containers protect the temperature, texture, and taste of your food in a hot display and for 30 minutes in transit. Customers expect takeout, curbside pickup, and delivery to taste as good as a meal served in a restaurant. Crisp Food Technologies® can help you satisfy their expectations and grow your off-premise sales.
Consumers Say Food Tastes Best in "Crisp Food Technologies"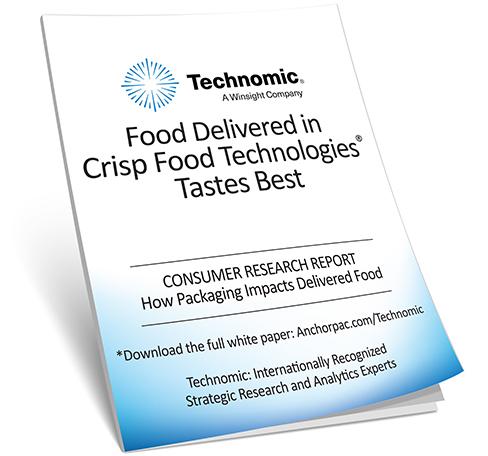 Technomic, an internationally-recognized authority in research for the foodservice industry, conducted consumer research to determine if packaging plays a role in the inherent challenges of delivering a restaurant-quality food experience for off-premise dining. The results of this research are in:
Food Tastes Better in Crisp Food Technologies® Containers. LEARN MORE
______________________________________________________________________
Industry Leaders Agree – and Recognize the Difference!
Industry leaders recognize the performance difference Crisp Food Technologies® containers deliver. In use at over 21,000 locations and growing!
Have you tasted your food after 30 minutes? Request free samples to see and taste the difference!
Recognition continues year after year as Crisp Food Technologies® earns industry awards. LEARN MORE

Meet our latest Award-Winner, Fry Baby®
______________________________________________________________________
How the Unique Design Keeps Food Hot & Crispy
The unique, patented, convection cross-flow design relieves moisture and condensation while maintaining food temperature. Through-the-closure ventilation and raised airflow channels in the bottom of the container, combine with venting in the anti-fog lid to ensure fried foods remain crisp. Even after three hours in heating units and 30 minutes in transit, food looks and tastes freshly made.
______________________________________________________________________
Available in a Wide Range of Shapes & Sizes
Sizes range from 14 to 63 ounces in single, two and three compartment options.
SEE THE ENTIRE LINE
In Use at Over 21,000 Locations and Growing!



Taste the difference yourself!

Watch the Video on Home Delivery with Crisp Food Technologies

Learn More About How Market Leaders Across Channels
are using Crisp Food Technologies® Containers to Increase Sales: