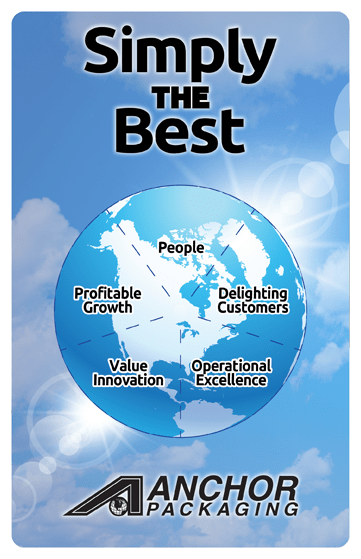 Anchor Packaging is a leading manufacturer of rigid containers and all-purpose cling film for the foodservice industry.  Our product lines include upscale takeout packaging for restaurants and quick service chains, assorted hinged and two-piece packages with high clarity, anti-fog lids to merchandise fresh prepared ready-to-eat and ready-to-reheat meals and side dishes in retail supermarkets and convenience stores, and products designed for food processor high speed production lines.
Anchor Packaging's primary focus is to be the preeminent global supplier of non-durable food packaging products, systems, and services to our customers.  Our goal is to excel, and continuously improve, in our ability to satisfy food packaging needs for the end-user consumer.  With select customers, we provide a joint development partnership that accelerates speed to market with consistent quality and at a price point that fits their market strategy.
Anchor's vision is to delight our customers with value-driven innovative products and services.  Our products are designed and manufactured at the lowest cost, in an efficient and safe operating environment, to drive increased sales and profits year after year for us and our partners.